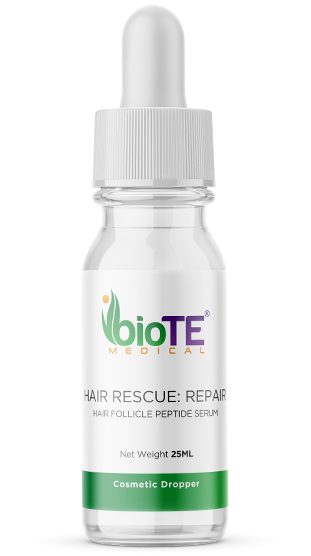 Strengthen and keep the hair you have with Hair Rescue: Repair from Biote. This specially formulated cosmeceutical was created to help retain hair follicles and promote thicker, fuller hair.
The Science Behind Biote Hair Rescue: Repair
Hair Rescue: Repair is a combination of two potent peptides, GHK-Cu and Zn-Thymulin. In studies, GHK-Cu has been shown to strengthen existing hair by stimulating growth in areas that are lacking thickness. Zn-Thymulin is a combination of Zinc and a nonapeptide called Thymulin. Together, Zn-Thymulin has been shown to extend the anagen phase of hair follicles and reduce hair loss associated with a zinc deficiency.
What Can Hair Rescue: Repair Do for You?
HAIR RESCUE: REPAIR helps retain hair follicles and reduce hair loss while increasing the count and density of hair.