OPTIMIZE THEIR HORMONES, OPTIMIZE THEIR LIVES.
Join a nationwide network of over 5,300 healthcare providers, just like yourself, who are changing the lives of their patients with hormone optimization.
Over 200 million men and women in the U.S. suffer from symptoms of hormone imbalance, like: brain fog, hot flashes, poor sleep, increased irritability, low libido, and feelings of depression or anxiety.
FOCUS ON WHAT YOU LOVE. LET US DO THE REST.
We empower physicians and practitioners to concentrate on patient care while providing the following resources:
CLINICAL & FRONT OFFICE TRAINING
Physicians, healthcare providers, and medical staff are trained monthly at Biote's state-of-the-art training facility.
CUTTING EDGE DIAGNOSTIC
Our diagnostic platform is the cornerstone of individualized patient care, delivering the right diagnosis, the right treatment, and the right outcome at the right time.
FULL PRACTICE INTEGRATION
Our nation-wide network of liaisons and physician mentors will come to your clinic to help you apply what you learned at certification training.
PATIENT MARKETING & ACQUISITION
We offer in-clinic marketing materials while our digital efforts deliver thousands of new patient leads to our network of providers each month.
INDUSTRY-LEADING RESEARCH
We never stop investing in research and studies to validate our method while continuing to learn and innovate our hormone therapies.
ON-GOING EDUCATION & SUPPORT
We offer free, on-going educational events that include opportunities to receive Continuing Medical Education (CME) credits.
DISCOVER AN ADVANCED FROM OF HORMONE REPLACEMENT THERAPY
The Biote Method of hormone optimization offers unique advantages, including:
Consistently optimized hormone levels
Access to the highest quality subcutaneous pellets
Personalized patient therapies
Evidence-based dosing regimens
Hormone therapies for men and women
High-quality supplements to support health
80+ years of formulation research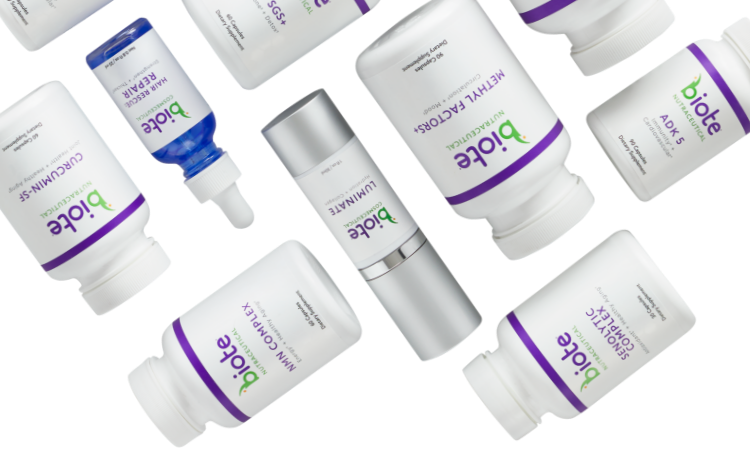 WE DO MORE THAN HORMONES
THYROID OPTIMIZATION
The Biote Method gives you tools to identify and manage thyroid conditions using patient-supplied data (including patient perceptions of symptoms and how they are feeling) as well as diagnostic tools.
CLINICAL-GRADE NUTRACEUTICALS
Nutraceuticals support hormone and thyroid optimization, and deliver improved, personalized outcomes for those patients with health deficits resulting from in inadequate food quality and choices, stress, health conditions, excessive alcohol intake, and drug-nutrient depletion.

GET STARTED
1
Fill out the form below to connect with a local Biote Liaison in your area, who can provide additional details and answer any questions.
2
Become Biote Certified by attending a hands-on training event at one of our state-of-the-art facilities across the U.S.
3
Offer the Biote Method of hormone optimization at your clinic and change your patients' lives, all the while growing your business.
JOIN THE HEALTHCARE REVOLUTION