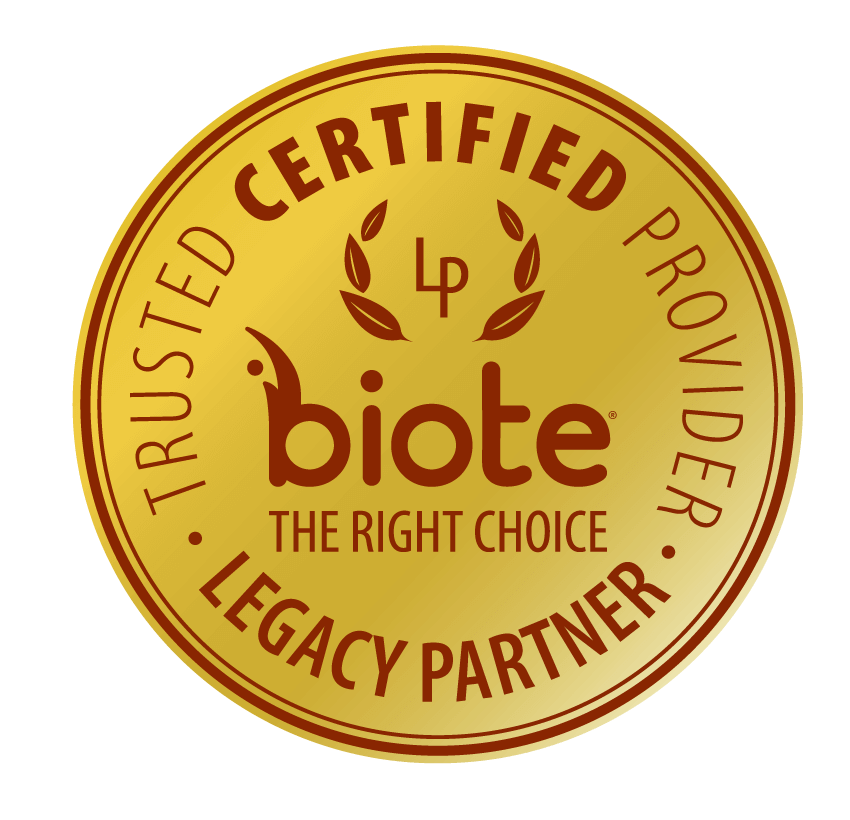 BIOTE PROVIDER
The Wright Center for Women's Health
Bioidentical Hormone Replacement Therapy in 60563
Specialty:
OBSTETRICS AND GYNECOLOGY
CONTACT US
630-687-9595
Millions of individuals are impacted by hormone imbalances every day. Imbalances in our hormones can lead to a myriad of symptoms including reduced libido, low mood, fatigue, and weight gain – but these changes don't have to be permanent. Now, there is help to address these and other early indicators of aging through hormone optimization. We, as your Biote Certified Provider in Naperville IL 60563, will work with you to create personal care plans and precision treatments that can help patients stay healthy longer.
Your Certified Biote Provider in Naperville IL 60563 specializes in the Biote Method of Hormone Replacement Therapy. The Biote Method of bioidentical hormone replacement therapy (BHRT) may help many men and women look and feel their best with hormone optimization. To learn how the Biote Method may be able to address specific health issues by restoring hormones to their optimal level, reach out to us and schedule a consultation today.
Kimberly Wright, MD
Hello, my name is Dr. Kimberly Wright and I am so very excited to embark upon this new adventure of opening The Wright Center for Women's Health. I have practiced in Naperville for the past 10 years and although I have always pride myself on providing the utmost high quality up to date care, I have found that I have a niche in medicine, a knack for a more individualized higher level of healthcare. It has always been a dream of mine to take this special personalized attention and extend it to every aspect of the healthcare experience. And that combined with achieving extensive unique experience in my field, my goal is to give each client a luxury healthcare experience surpassed by none.
By now you have likely seen my "specialties" everywhere, the website, business cards, facebook, etc. There's good reason for this. Although I enjoy seeing women to take care of all of their OB/Gyn needs, I have become particularly fond of those areas that help to improve your quality of life. It gives women a certain freedom when they don't have to worry about becoming pregnant when their family is complete, an annoying period mishap at the most inopportune time, irritation from elongated labia minora during exercise or intercourse. I want to help give women their life back by taking care of those gynecological nuisances with minimally invasive in-office procedures without the risks of anesthesia. I always endeavor to provide these procedures not only with unsurpassed customer service but also in a way that will be least disruptive to your work and daily routines so that you can move on to enjoying your life.
Hobbies? Well, unfortunately for my amazingly wonderful husband Charles and two absolutely beautiful and sweet 3yo twins, this is my hobby. Right now, I promise you that I eat, drink, sleep, live and breathe bringing you the personalized luxury healthcare experience of a lifetime. But with your continued support, one day, I do plan to seriously get back to, first and foremost, spending time with family and friends and those other small delicacies of life I enjoy. Those include twizzlers, an occasional glass of Moscato, and a very unhealthy obsession for shoes.
Thank you so much for reading about me and I truly look forward to welcoming you to The Wright Center for Women's Health.
LaDonna Wright, PA-C
My name is LaDonna Wright, and I am a graduate of the MXC/John Stroger County Hospital PA Program, and additionally a MMS from St. Francis University.
My initial experience as an advanced clinical provider was working in general medicine alongside family and internal medicine physicians so I am familiar with empowering patients to take charge of health concerns such as annual exams and chronic conditions such as asthma, hypertension and diabetes.
Additional assistance was provided in helping patients to meet weight management and smoking cessation goals.
I look forward to continued expansion of my healthcare experience by working with women's health concerns such as annual and wellness exams, OB visits, as well as other concerns that require the attention of an advanced clinical provider.
In particular I look forward to focusing on helping patients meet weight management goals, and working on expanding the Center's provision of alternative and integrative medicine regimens in particular with the management of balancing hormones and helping women to age healthier.
Outside of the clinic, I relax watching Big Bang Theory and Shonda Rhimes television (Grey's Anatomy and Scandal, anyone?) and playing games such as Words with Friends and Ruzzle.
I am excited to join the team at the Wright Center for Women's Health, and look forward to the challenge of working on healthcare goals with patients.
Dr. Wright is my aunt, and she inspired me to enter the medical field so it is especially unique to have the opportunity to collaborate with her as a provider!
Darchell Darby, PA
Darchell Darby is a physicians assistant for The Wright Center for Women""s Health in Naperville, ILDarchell has been with us since November of 2013. She is the life of our office and always coming up with new ideas to keep the staff a cohesive unit. We are very thankful to be able to have her here with us. The patients love her and her personality. She is very personable, thorough, follows up with the patients closely and treats our clients with that extra personalized luxury attention that The Wright Center embodies.
Meghann Vizintos, PA-C
My name is Meghann Vizintos and I am excited to be a part of the team of providers at The Wright Center for Women's Health as a certified physician assistant. I received my Bachelors of Science in Biology cum laude from Benedictine University in Lisle, Il. and my Master of Medical Science in Physician Assistant Studies, with highest honors, from Nova Southeastern University in Orlando, Fl. During my clinical rotations I enjoyed having the opportunity to care for a wide variety of patients but when I completed my obstetrics and gynecology rotation I knew that was my calling. I am committed to treating my patients holistically with a calming and caring demeanor, to ensure that they receive the highest level of care. I value the opportunity to discuss health concerns with patients to ensure they are empowered to make informed decisions regarding their health. I am very excited to be
seeing patients and enjoy providing personalized healthcare. In my spare time, I love spending time with family and friends, trying new recipes, and cuddling with my Shih Tzu, Delilah.
Kasey Nemitz, PA
Kasey Nemitz is a certified Physician Assistant. She graduated cum laude from Marquette University with her undergraduate degree in Biomedical Sciences. She continued her education at Marquette University, where she graduated cum laude with her Master of Physician Assistant Studies degree. At The Wright Center, Kasey enjoys the opportunity to provide women with individualized health care. She likes being able to form relationships with her guests and to provide them with quality care.
Yolanda Chenoweth, FNP-BC
I am a Board Certified Bilingual English/Spanish Nurse Practitioner. I earned my BSN at Aurora University and my MSN with a focus on FNP at Olivet Nazarene University.
I have 8+ years of nursing experience within women's health including Labor & Delivery, Postpartum, and OB/GYN outpatient care.
I strive to provide complete and compassionate care for women of all ages with the goal of normalizing conversations on all aspects of women's health. My passion lies in contraceptive management, hormone balancing, healthy aging and weight loss. I am passionate about empowering women to make their own informed decisions. Outside of work, I love to spend time with my family and traveling.